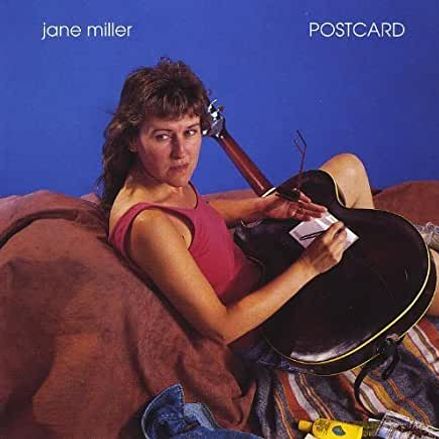 Praise for "Postcard"
"...The guests on 'Postcard' support Miller without taking away from her own group.  Her guitar style is rooted in a contemporary jazz sound, but it is very different from others in the field.  Jazz guitar may be associated more with the speedy playing of Larry Coryell and John McLaughlin, but Miller prefers a softer touch and low, full-bodied tone.  She alternates between fingering and picking the strings,and either way tends to craft a rich organic sound.  Her style translates well on spirited numbers like 'Neighborhood' and meditative pieces like 'Where's Saturn'.  though she fits more in the contemporary camp of jazz, Miller nails some daunting arrangements on the lengthier songs she pieces together with timing changes and sudden shifts in rhythm.  So while it is contemporary, Miller's music is far from the mundane pop-jazz blend of jazz's trendier new artist concocting…"
- Scott McLennan, Worcester Telegram and Gazette
"WFNX 101.7 FMTop Ten Jazz Brunch - #8 Jane Miller 'Postcard'"
- The Boston Phoenix
"Guitarist Jane Miller's debut recording-'Postcard', on Pink Bubble Records-is like a small portfolio of watercolors by Georgia O'Keefe. Her compositions are filled with brightly colored sonorities and are rich with silver linings and expansive vistas.  Of the 10 pieces on the disc, eight are original.  The covers are standards that fit neatly into the tonal scheme: Rogers and Hart's 'Falling in Love With Love' and Johnny Mercer's perennial favorite, 'Autumn Leaves'. Miller evokes impressions of Wes Montgomery, Jim Hall, and her onetime teacher Emily Remler-guitarists known for their lyricism.  Her melodies are woven into the harmony in search of melodic and harmonic convergence.  She prefers to paint her pictures with the pure sound of the instrument rather than with amp devices.  Miller's regular unit-pianist Tim Ray, bassist Bob Simonelli and drummer Don Kirby-is joined by special guest vocalists Mili Bermejo and Patty Larkin, saxophonist Cercie Miller, guitarist Mick Goodrick, and percussionist/flutist Ken LaRoche.  The guests complement the leader effectively.  The singers use their voices like horns, vocalizing syllables rather than words.  Regular group member Tim Ray's thematic approach to soloing is particularly sharp.To close the record, guitarists Miller and Goodrick pair off to perform a duet called 'Prayer', a peaceful composition of consonant harmony that softly tiptoes away in quiet slippers.At times Miller's quality of softness and avoidance of the push and pull, tensions and release give her work a lack of drama.  But make no mistake, this is no New Age slice of ear pudding.  Instead, Miller gives us music on the gentle side of jazz."
- Chet Williamson, Worcester Magazine
"...Her compositional style is very impressionistic and her guitar playing is a means to that end."
- Chet Williamson, Worcester Magazine
"Jane Miller started off her guitar career on the folk circuit, but like so many serious instrumentalists, she found the pull of jazz irresistible.  As evidenced by her fine self-produced CD, 'Postcard', Miller occasionally veers toward New Age mellowness (she copyrights her original tunes under the name Channeling Music).  But when the music gets busy, her at-one-with-the-universe attitude has a soothing effect.  Her forays into bebop are smooth, relaxed, and surprisingly warm-positively centered.  Nothing frenetic here, and plenty worth listening to."
- Brian Goslow, Worcester Phoenix
"...her signature sound, which she delivers with a venerable hollow-body instrument, is bell clear, well crafted, and showcases a keen melodic sense."
- William Tandy Young, Blues Wire